The #leregoledelgioco communication campaign (game rules campaign), promoted by the Italian Football Federation which, through the Azzurri and the Azzurri, wants to contribute to raising public awareness of the rules to follow in order to contain the spread of Covid-19, starts today. In a particularly difficult moment for the country, the players of the national teams want to support the positive behaviours indicated by the institutions. The #leregoledelgioco campaign, promoted today on the sports newspapers, will develop on the official channels of the FIGC and the Italian men's and women's national teams: a social activation in which many Azzurri protagonists will take the field to face a game different from the others, through 11 game rules. Each protagonist of the campaign will create a story and a short video in which he will tell his own rule and invite the public to share the message and interact with the official campaign hashtag.
Starting today with the intervention of CT Roberto Mancini: "RULE # 1. THE NEW NATIONAL SCHEME IS 1-1-1: to combat the spread of Coronavirus we keep at least one meter away from each other. "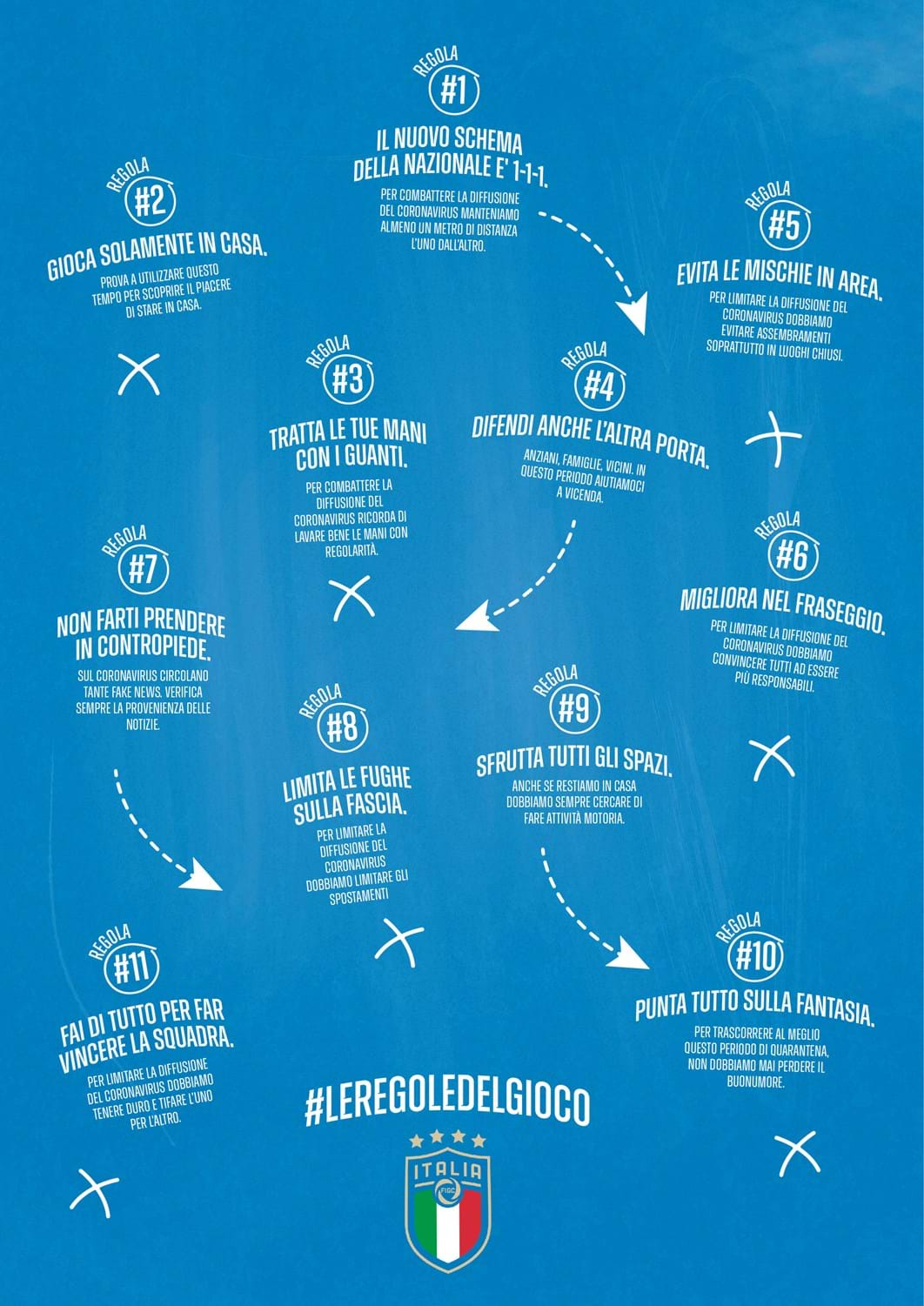 The Commissioners Milena Bertolini and Roberto Mancini have joined the FIGC campaign and many players will be involved: the first to take the field will be Leonardo Bonucci, Federico Chiesa, Gianluigi Donnarumma, Alia Guagni, Manuela Giugliano, Cristiana Girelli, Ciro Immobile, Jorginho, Nicolò Zaniolo. Other Azzurri and Azzurre will follow in the next few days who are joining the project. The conclusion of the campaign will be entrusted to Captains Giorgio Chiellini and Sara Gama.
The campaign also aims to support frontline healthcare facilities in this emergency by inviting all Italians to donate; in this regard, the FIGC has decided to donate a contribution of 100,000 euros to the National Institute for Infectious Diseases "Lazzaro Spallanzani" in Rome.
"Thanks to the involvement of the Azzurri and the Azzurre - declared the President Gabriele Gravina - the FIGC intends to make its contribution in promoting responsible behaviour, morally supporting the health personnel who are facing this emergency, with great professionalism and availability, and financially supporting the hospital facilities. Football can do a lot even when it's not on the pitch, with #leregoledelgioco we invite all Italians to play and win the game against Coronavirus together ".